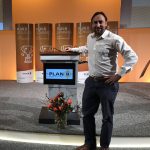 School of Skills in der PlanB-Expertenjury
Der Biocampus Straubing veranstaltet mit großem Erfolg den renommierten Gründungswettbewerb "PlanB". Dabei stellen junge Startups "grüne Geschäftsideen" – basierend auf Nachhaltigkeit und Ökologie – vor. Große Ehre für die School of Skills und insbesondere Training Partner Thomas Weiß. Wir waren in seiner Person das erste Mal in der Jury vertreten: "Wir können hier natürlich unsere Erfahrungen aus mehreren Jahren Mentorship im Silicon Valley Program einbringen", so Weiß.
Zudem unterstützte er das Coaching der Gründer mit Seminaren zu den Themen "Go to Market Strategies" sowie "Die Persönlichkeit des Gründers". Für die Zukunft sind weitere Kooperationen zwischen der School of Skills und dem Biocampus Straubing angedacht, unter anderem vorbereitende Design School auf Basis des Design Thinking Ansatzes.