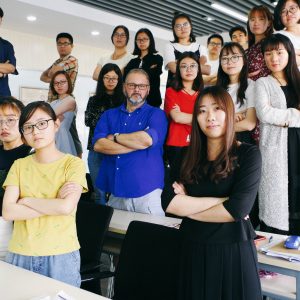 "Oh Captain, my Captain…"
Zum zweiten Mal startet der HSL der School of Skills an der chinesischen Eliteuniversität "Jiangnan University". Thomas Weiß und Peter Schmieder unterrichten rund 20 ausgewählte Bachelor und Master Ingenieursstudenten aus dem "oustanding students program" der Jiangnan University. Für die Teilnehmer ist es der erste akademische Kontakt mit Themen wie Sozialkompetenz, Change Management and Typenlehre.
Zitat der Studenten:
"The most gorgeous lesson I have ever taken. So different, so changing!"
Übrigens: Die Studenten selbst wollten das Gruppenbild genau so!